Linda, webmaster
I dedicate this special page to my dear friend Gérard for his Charity work to underprivileged children and other organisations in the whole wide world.

« Ne rougis pas ! Ce n'est pas une honte car plus belle chose que l'amour ne se peut trouver au monde » Juliette Benzoni : famous French Author of Historical books.

(« Do not blush ! It is not a shame because a more beautiful thing than love cannot be found in the world »)

New York, The Plaza Hotel, USA 2015 »
more

Flyer © linda compagnoni walther

Gérard Chambre, February 2015
It is a great honor for me to participate at the ˈBal des Berceauxˈ (The Plaza, New York) Friday, May 8, 2015 dedicated to the FRENCH- AMERICAN AID FOR CHILDREN organisation interpreting some of the great French Chansons...
→ to read more see Bal des Berceaux




Ampefy

,

Madagascar 2013 » more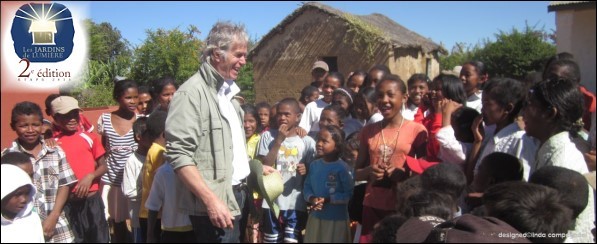 photo ©

www.jardins-de-lumiere 2013

extract from an article by Gérard Chambre 2013
I was touched by the complicity between musicians and technology; the curiosity for each other; the relationships we built between our two different worlds; the great intelligence and dignity of Malagasy people; and the seriousness of the project...
→ to read more see Fête de lumière (the text is still in French)

Antananarivo, Madagascar 2011 »
more




photo ©

www.jardins-de-lumiere 2011


Mahetsaka, Jacaranda 2011 - translated by webmaster Linda
A very generous man that Gerard Chambre! After numerous concerts in several countries of the world to help various associations, the singer will also occur on Malagasy soil, always with the same goal ... to help the most disadvantaged...

Ranohira, Madagascar 2011 »
more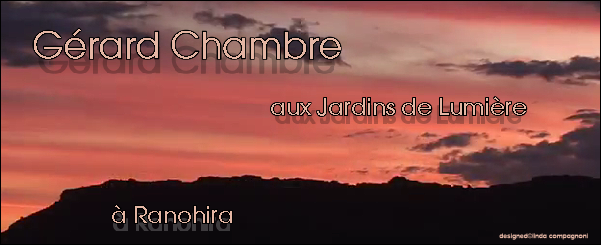 photo ©

www.jardins-de-lumiere 2011

Linda, webmaster 2011
It is one thing to sing in a famous concert hall, like the Olympia in Paris, the Festival Lacoste or chez Maxim's and quite another in an open Field, in front of an exotic culture in a faraway continent, confronted by heat, dust and technical problems!

An Entertainer contributing a bit of happiness to mankind unconditionally given - showing his respect towards any kind of audience without making any difference where he performs, is not only a unique professional - but in my eyes, a most generous man with a noble heart - in one word my friend Gérard Chambre!

I can only bow my head in front of Gérard and like to quote Mark Twain: « Action speaks louder than words but not nearly as often »

Le Divan du Monde, Paris 2011 »

more


video clip © webmaster


with photos from the Charity concert at Ranohira


Paris 2011
Gérard Chambre wrote for the organization Les Jardins de Lumière a most beautiful song : Les jardins de Lumière accompanied by an adorable chorus. The song was recorded in Paris in the summer of 2011.

LES JARDINS DE LUMIERE (texte © G. Chambre)
Si chaque homme dans son cœur allumait la lumière
Si le sourire des femmes illuminait la terre
Alors se lèveraient dans les petits matins
Tout le parfum des fleurs de million de jardins
Si la lune quelque fois illumine nos pas,
tous nos rêves d'enfant que l'on oublie parfois
Partageons le soleil pour réveiller nos vies
Et semons des étoiles pour éclairer nos nuits
Tout juste un peu d'amour et se prendre la main
Quelques petites lumières pour ouvrir le chemin
Et sur l'arbre de vie que nous aurons planté
Allons cueillir les fruits de notre liberté
Allumons les soleils tout autour de la terre
Faisons de notre vie un grand son et lumière
Éteignons par nos chants les peurs et les guerres
Et donnons-nous la paix pour des années lumières
REF
Allumez les lumières
et réveillez le monde
Allumez les lumières
et sortez le de l'ombre
Allumez les lumières
Pour chanter nuit et jour…
Toutes nos chansons d'amour

Phnom Penh, Cambodia, 2010 » more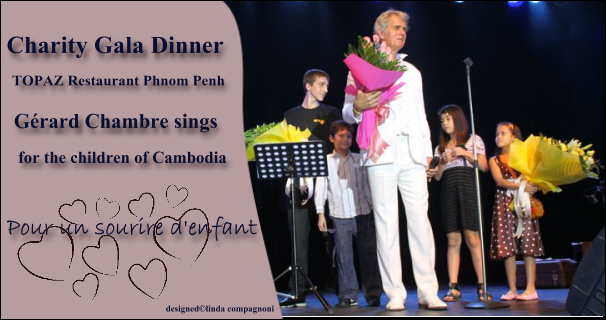 photo ©

Topaz Restaurant Phnom Penh 2010

text by famous Topaz restaurant, Phnom Penh 2010
In conjunction with French Week in Cambodia 'Topaz restaurant' and the company 'Red & White International' organised a prestigious charity gala dinner with the participation of renowned Parisian Chef Jean-Christoph Lebascle and famous French artist Gérard Chambre, to benefit the Antoine de Saint-Exupéry Youth Foundation.

Phnom Penh, Cambodia, 2010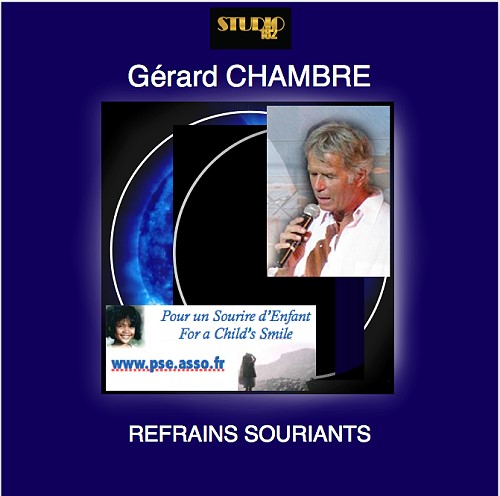 photo Gérard Chambre © linda compagnoni Palais Bulles 2009