© text by French American Aid for Children
FAACF is an all-volunteer organization benefiting disadvantaged children.
Their goal: help underprivileged children build a better future by providing tools for success.
Their strategy: subsidize long term programs in education, health and prevention of neglect and abuse.

Their organization is composed of a hundred Foreign and American members who take great pride in helping support underprivileged children in both the US and France.
A Board of Directors governs the organization whose current President is Mrs. Marguerite Mangin. Every fundraiser is produced entirely by its volunteers and all Officers and Directors serve part-time, without compensation.

Their fundamental mission is funding and monitoring projects that provide support to selected American and French children's charities for projects addressing health care, education and the prevention of child abuse. Each charity they assist is dedicated to helping children heal, regain hope and confidence, and get a fresh start in life.

The 'Bal des Berceaux' held at the prestigious 'Plaza Hotel' is their main fundraiser where they organize a live auction. They also organize a festive 'Holiday Cocktail' at the 'French Consulate' each year that features a Silent Auction.
Their offical site is: www.faafc.org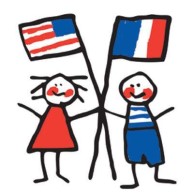 CHILDREN COME FIRST

French-American Aid For Children
Gérard Chambre will give a recital of legendary French and American songs at the 'Annual Gala' on Friday, May 8, 2015

French-American Aid for Children enthusiastically thanks Gérard Chambre (renowned French comedian, actor, director, singer and songwriter) for his generous concert benefiting our children's causes!

Gérard Chambre, February 2015
It is a great honor for me to participate at the 'Bal des Berceaux' (The Plaza, New York) Friday, May 8, 2015 dedicated to the FRENCH- AMERICAN AID FOR CHILDREN organisation interpreting the great French Chansons.

Bronx, USA Wednesday May 6, 2015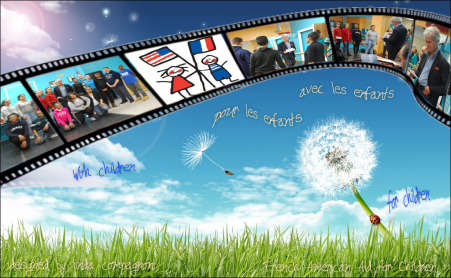 design © linda compagnoni walther

Gérard Chambre, Bronx, May 6, 2015 (message on Facebook)
Live from New York, I say hello to all of you and would like to share with you some lovely photos from our first meeting with the children of the 'Kips Bay boys and girls club' in the Bronx. We shall be singing together tomorrow night at the Plaza Hotel, New York, attending the Charity concert 'Bal des Berceaux', dedicated to the Organisation 'French American Aid for children'.


Kips Bay Boys and Girls Club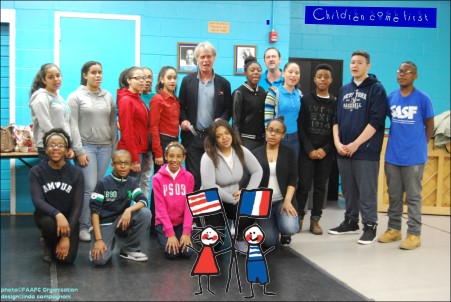 photo ©french-american-aid-for-children
design linda compagnoni

text by Gérard Chambre May 21, 2015
translated from French by webmaster, linda
How to describe this journey that led Thierry Jan and I to do our small part in helping these American children living in the Bronx, one of the poorest neighborhood of New York... well, it is thanks to the generosity and the energetic commitment of an exceptional woman: Marguerite Mangin.
For many years, Marguerite and her team have given the careful and trustworthy help which allows these children to have recreational facilities under the watchful eyes of organizers and facilitators. Activities like dance, sports, singing and drama keep the children from drifting into the dangers of the street.
We attended rehearsals of their shows and were surprised to see the variety of subjects on offer, such as comedy musicals, singing and choir, and constantly amazed at the incredibly high standards the children were achieving.
During the evening we had the pleasure and pride of singing with the children of Kips Bay the song Les Jardins de lumière – which they knew by heart, and with a lovely pronunciation!

Yet again we see how this song brings people together from all walks of life, and even when we speak different languages.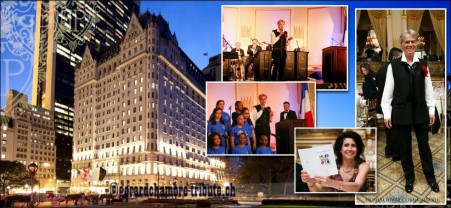 design ©linda compagnoni
The grand Gala event was attended by ambassadors, politicians and other famous people, all of whom were truly committed to the worthy cause of helping children in difficulty.
Our contribution was welcomed by people with a love for French chansons. How marvellous it was to share Jacques Brel, Ives Montand, Edith Piaf, Georges Brassens etc with such an enthusiastic audience!
From our hearts we say a huge 'thank you' to the French-American Aid for Children, to Marguerite and her team and to the children of Kips Bay and their leaders for giving us the joy of sharing these moments with them. This was certainly one of those performances where we received far more than we gave.
signed

Gérard Chambre and the Kips Bay Boys and Girls club