Pierre CARDIN
presents

JACQUELINE KENNEDY,
THE LADY IN PINK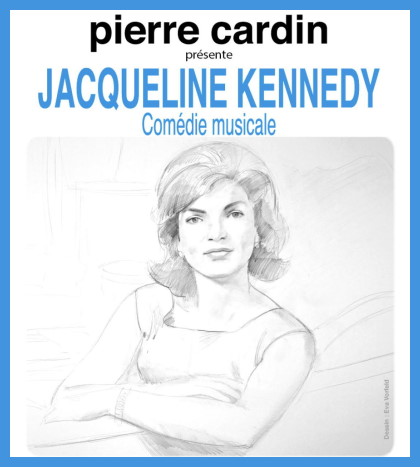 The beautiful Artwork by Artist Eva VORELD

a Comedy Musical
Written & directed : Gérard CHAMBRE


Monsieur Pierre Cardin presents:

The new Show of Gérard Chambre "Jacqueline Kennedy, la Dame en Rose" (The Lady in Pink) with Gérard Chambre and his celebrated Group: "Opéra ma non troppo" at the Théâtre Maxim's in Paris.

Since 7 October 2019
Time : 20h30 each Monday night
Where : 3, rue Royale, 75008 Paris, Métro Concorde

Reservation : 0142643733 - gerardolivierchambre@gmail.com
Ticket prices : 35€ (Discounts for groups)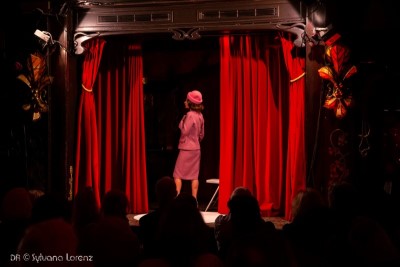 Anaïs Gilbert in the role of Jacqueline Kennedy


A Musical Comedy ??!
How can a musical be produced around the most famous woman in the world, whose terrible destiny does not seem, a priori, to be able to arouse the slightest fantasy, and whose story is closer to the Greek tragedy than to the comedy?

How can we tell this incredible odyssey, where death fights against life, where a woman is tossed around by the faults of time and finds herself confronted with terrifying earthquakes against which she must protect her soul at all costs?

Only musical comedy, music and dance allow this volte-face which recounts, in song, the path traced by the gods of the one who chose to ignore it to forge her own destiny.

Comedy, comedy, comedy, ... Life is nothing else than a comedy !
A period of musical splendour and incredible richness, the sixties proved ideal for setting the long odyssey of the "lady in pink" in the form of a musical comedy where the wild, bewitching and all mythical rhythms of the time meet: blues, rock'n' roll, country, and melodies of the crooners... forever imprinted in our minds.

To transform Jacqueline - Jackie - Kennedy's life into a musical comedy is to invite all those who, at her side, have given their voice and talent to shout that life is, and always will be, this insatiable quest for love, with its dangers, its pains, and its dramas.
They will all be there: Frank Sinatra, Elvis Presley, Nina Simone, Marilyn Monroe, la Callas, Simon & Garfunkel, Abba, Elton John, Théodorakis...
All with her, Jacqueline Kennedy, to help her, with their songs to get through her life.
Jacqueline Kennedy, the Lady in Pink,
Musical Comedy,

it is the story, in songs, of a woman who had chosen not to submit to her destiny,
and decided to pursue happiness throughout her life.



Gérard Chambre is happy to take you on board with his group.


Anaïs GILBERT in the role of:

JACQUELINE KENNEDY

Véronique FOURCAUD
Romane COUMES
Fabrice COCCITTO
Matthieu GAMBIER
Gérard CHAMBRE

Musical direction : Marion VILLANEAU

---
The 19th Festival of Lacoste 2019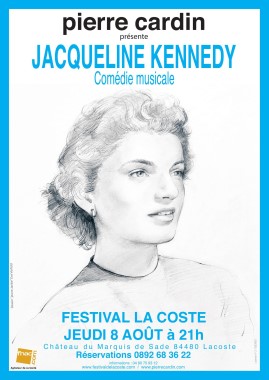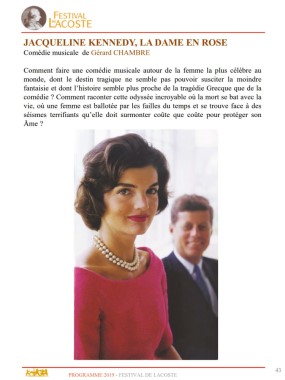 ---
Festival Lacoste 2019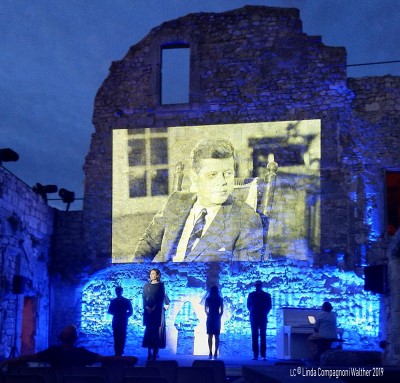 at the Festival Lacoste Pierre Cardin 2019
Jacqueline Kennedy, the Lady in Pink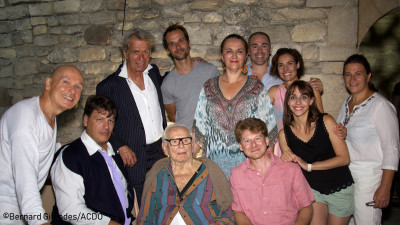 Family photo after the premiere of Gérard Chambre's new Musical Comedy with Producer Pierre Cardin, his nephew ˈRodrigo Basilicatiˈ, ˈGérard Chambre et sa superbe troupe, Véronique Fourcaud, Anaïs Gilbert, Romane Coumes, Fabrice Coccitto, Matthieu Gambier, Marion Villaneau & Eric Bretonˈ.

photo ©Bernard Ghilodes / Agence Clin d'Œil
---
Some opinions by the audience ...

Bravo Maestro
Anais Gilbert IS Jackie in a subtle, elegantly played incarnation that is the gravitas in this otherwise over-the-top funny production by Gerard Chambre and his "Opéra ma non troppo" troupe.
The diminutive Fabrice Coccitto provides constant comic relief, especially as Onassis, but the sheer stage power and voice of the extraordinary Opera-trained Veronique Fourcaud will be a treat you'll not soon forget.
→ Terrance - https://terrance-paris.com/ le 19 novembre 2019

Congratulations, Gérard, for the amazing and very funny Show you managed to put around Jackie Kennedy. Congratulations on the development of the very successful sketches and the rewriting of the Songs.
→ Francine

Assisté hier soir à un nouveau spectacle musical au Théâtre chez Maxim's mêlant tragédie et comédie à aller voir pour -entre autre - le talent de Fabrice Coccito (Onassis irrésistible), la voix de Veronique Fourcaud (en Callas et Marilyn déjantees) et bien sûr la mise en scène et l'écriture de Gérard Chambre !!!
→ Sylvie Jeanmichel - le 4 novembre 2019

J'ai assisté ce soir au spectacle de Gérard Chambre chez Maxim ' s. Un pur joyau d'émotions et de rires ...une alternance de rires et de larmes ...Une plongée intelligente et subtile dans la vie de Jackie Kennedy ! Bravo à Gérard Chambre pour sa mise en scène extraordinaire et à toute la troupe ! Anaïs Gilbert m'a bouleversée et émue ...Je suis sous le charme ...Allez-y ! Courez voir ce spectacle et "Bye bye lovelyness. ..hello Happyness !
→ Particia Maillard - le 4 novembre 2019

Un spectacle à ne pas manquer ! Touchant, drôle, inattendu dans un cadre mythique. Bravo aux artiste.
→ Anne-Gwenola Le Bobinnec Goujon - le 4 novembre 2019
La Dame en rose s'invite chez Maxim's
Un excellente critique du site It Art Bag de l'Art et de la Culture concernant la nouvelle comédie musicale "Jacqueline Kennedy, la Dame en Rose" de Gérard Chambre et de sa talentueuse troupe qui sera au rendez-vous chaque lundi soir 20h30 au légendaire Maxim's de Paris. Présenté par Monsieur Pierre Cardin
→ par Julie Goy le 2 novembre 2019

C'était TOP ! Vraiment génial, on a tellement ri entre Jackie pathétique et dérision.
→ Spectateur

Quoi dire magnifique. Véronique Fourcaud dans le rôle de Marilyn Monroe - géniale. Bravo bravo, superbe. Félicitations. Encore et encore. Bises
→ Spectateur sur Facebook

© 2010 - 2021 gerardchambre-tribute.ch
Non-profit site - All rights reserved