« Luxury does not impress me in the slightest »

August, 8, 2015
Interview with Pierre Cardin in Die Welt German newspaper
text by Silke Bender, journalist.

translated from German to English: by Linda Compagnoni, webmaster and communication director of Gérard Chambre.

So now, it is Marlene Dietrich. When Pierre Cardin sets something into his head, there is no holding back. When 14 years ago the fashion designer and tireless entrepreneur had converted the Castle of Lacoste of the Marquis de Sade into a theater, there stirred resistance in the village in the provençal Luberon. He stuck to his guns. Today, the residents and business people seem apparently to arrange themselves with the small upswing, which the mountain village has experienced thanks to the annual theater festival.


credit : Klaus Roethlisberger
Cyrielle Clair
Le Retour de Marlene Dietrich
Last Thursday the play Marlene Dietrich celebrated its premiere, which Pierre Cardin commissioned to director, composer and actor Gérard Chambre - and since Germany is one of his most loyal licensees, a couple of German journalists were invited.
At the age of 93 years, his desire to create and initiate things is unbroken. Only last November 2014, he opened in the Parisian District Marais another cultural center, the Musée Pierre Cardin.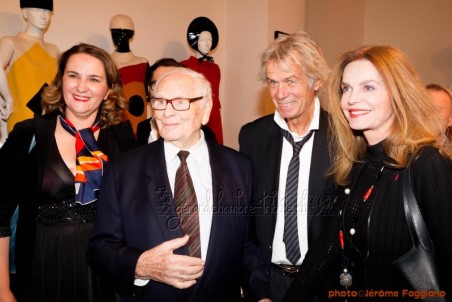 credit : Jérôme Faggiano /Studio Pierre Cardin
Pierre Cardin « au Musée Pierre Cardin » surrounded by
Véronique Fourcaud, Gérard Chambre and Cyrielle Clair
Before the premiere in Lacoste, Monsieur asks with fresh sparkling mood for an interview - despite the scorching summer heat, the flickers over the mountains. At the restaurant, where we are sitting, he reveals at the end of the interview, that he had bought the restaurant incidentally likewise together with the Castle, as 42 other properties in the village. A conversation with a man, who believes holidays and Sundays are completely unnecessary.
ICON: What unites Pierre Cardin, Marlene Dietrich and the Marquis de Sade?
Pierre Cardin: Quite simple: The castle of the Marquis de Sade is mine. I bought it 15 years ago to revive it as a cultural center with theater, music and dance. Marlene Dietrich gave some of her last concerts in Paris at my Espace Pierre Cardin. That is long ago, in 1973 – she was for a whole month our star. And I wanted in honor of this extraordinary woman, do justice with a play at this wonderful place. The costumes, the dramaturgy, the choice of actors - all this is Pierre Cardin.
ICON: What impression did la Dietrich leave on you?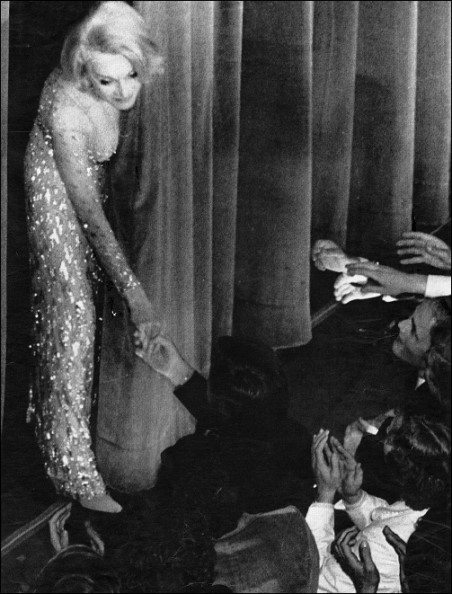 Marlene Dietrich à Espace Pierre Cardin Paris 1973
Cardin: She was an authoritarian type and at the same time very emotional, that combination was for me highly sympathetic. I had perceived her very lonely and her sometimes aggressive-authoritarian nature as an expression of her sadness, interpreted as a shield.
ICON: Were you friends?
Cardin: No, I cannot claim that. However, I have seen her almost each day during that month at my theater and had very much admired her.
ICON: And what sympathy do you have for the infamous Marquis de Sade?
Cardin: The castle was looking for a new owner, and I knew the old one. He wanted me to buy the place, which he even disposed in his will. I had no other choice (smiles). Well you know, what the good Marquis was up to here in the castle, is not my problem. He was a good writer and I like the place, the Provence, the Luberon.
ICON: You had already shortly after you became a successful fashion designer, committed yourself to the culture, promoted theater, music and art…
Cardin: That is not true; I started with everything at the same time.
ICON: Which passion is greater, that of fashion or that of art?
Cardin: I always wanted to be everything: fashion designer, actor and dancer. In addition, I have always tried to combine it. However - the actor or dancer Pierre Cardin, would not have been able to by the castle of the Marquis de Sade, but the fashion designer. Without fashion, I would not be here.
With 24 years, Pierre Cardin works at Elsa Schiaparelli, where he designs the costumes for Jean Cocteau's film La Belle et la Bête (The Beauty and the Beast).

In 1964, he invents the look of the Beatles and is supplier of the television series The Avengers with Patrick MacNee as John Steed and Diana Rigg as Emma Peel in the lead roles.

The Beatles 1963
Not only his futuristic style with lots of sex appeal made in the Swinging Sixties furore, Pierre Cardin revolutionized as a businessman also the fashion market: He invented the Prêt-à-Porter, men's collection off the rack. He was the first haute couture designer, who already in 1959 designed a collection for the department store Printemps - 45 years ago before Karl Lagerfeld and his H & M-coup.
He was the first to use his initials and his name as brand to cash money - Cardin is today regarded as King of this discipline with about 750 licenses. The company Ahlers AG in Herford is for example since 1992 licensee of the menswear line « Pierre Cardin » for the German and international market.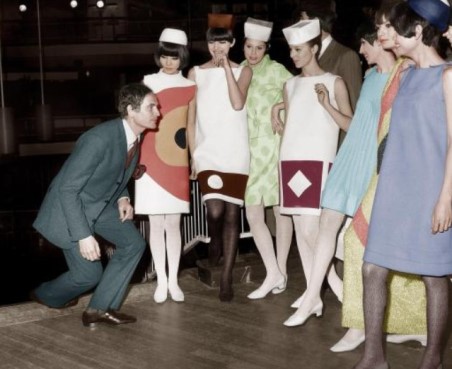 credit : Getty images
Pierre Cardin bows before his models in 1966
ICON: From cutlery to furniture, underwear and socks - there is little for which you do not stake your good name. Not afraid of trivialization?
Cardin: Well, you know, when I showed my first collection at the Printemps in the department store, they whispered, in one year, the house Pierre Cardin will only be history. Nevertheless, you see, I am still here, the only one, and above all, I am still my own boss. What I always wanted is to make design affordable for people on the street, to democratize fashion.
ICON: Your understanding of democracy extends up to a Pierre Cardin-frying pan?
Cardin: I find nothing dishonorable in a frying pan. It is just as beautiful and practical as a glass. And where, quite frankly, is the big difference between a frying pan and a perfume? Why should perfume be luxury and glamour, and a frying pan, in which you can produce wonderfully fragrant and savoury dishes, not? It is all just a matter of psychology. Why should something be valuable, just because it is more expensive? Luxury does not impress me in the least. Caviar is not better as leeks. It is the idea, the creation, which has value. Also without the frying pan, I would not be here and could organize theater festivals.
ICON: Do you still design today?
Cardin: Absolutely, and every day. I still design nowadays two collections per year, but only women's fashion. The volumes, the silhouettes, that is still my territory, the details I leave these days to my assistants.
Pierre Cardin grabs himself the pen and starts obliviously to draw on the paper under his plate with an agile hand a long-legged model in a lush robe with butterfly peplum.
ICON: They say, that it was you who invented as a tailor at Christian Dior in 1946 the famous New Look - the lavishly covered skirts, the narrow waist...
Instead of answering, Cardin pulls under another plate a second paper out and draws well-versed a model in the typical Dior look with the characteristic big hat.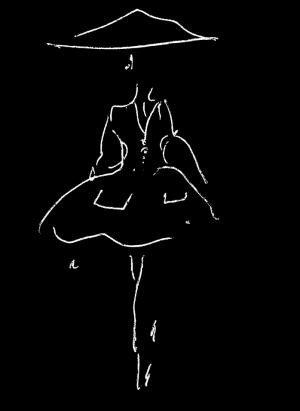 credit: Die Welt
Pierre Cardin's drawing at Lacoste for the Interview
ICON: So who was it: you or Christian Dior?
Cardin: Of course Monsieur Dior – as you write the article and are not the newspaper. I worked three years for him, and was responsible for the coats and the costumes.
For his precise fashion drawings, Cardin has become famous.
ICON: Of what are you proud?
Cardin: That I am the only one and first fashion designer who became a Member of the Académie des Beaux-Arts. Moreover Honorary Ambassador in various institutions in Russia, Japan, China and France. And the UN. Who else can say that of himself? Nobody.
ICON: You were also the first Western fashion designer, who in 1978 went to China and held a fashion show in the Forbidden City…
Cardin: I was and I am a capitalist, and the Communists have welcomed me with open arms. If I have learned anything in my life, it is worthwhile to be the first.